With Google Co Op Beta you can create a custom search engine with the capabilities to search within a specific area of interest that out preforms any other search engine on the planet. Now just imagine how this could increase you traffic numbers if the word got out that you have this tool on your site.

Co Op let's you specify which sites you want to include in searches. It allows you to change the look of the results page to match the look and feel of your site and even associate your adsense for search to this engine so that relevant ads are displayed in search results. Now that has serious potential to increase your adsense revenue

The beauty of building a custom search engine is that it is a work in progress. At any time you run across a site that has content that pertains to your subject you can bring up a marker menu from your toolbar that allows you to instantly add this site to your search engine. You can also tailor a specific site so that it's content is associated with certain keywords that you assign.

For example below you'll find a search engine that I started geared towards finding tips, tricks, tools and information on Blogger's software and how to go about customizing your blog. It's in it's infancy but I hope to get it to a point that bloggers will point to it as the ultimate source for Blogger information.

Below is it's introduction and granted it has along way to go but as an example I ran a search at bloggerforum.com using their sites search engine. I searched using the phrase "adding links to Blogger" and here are the results: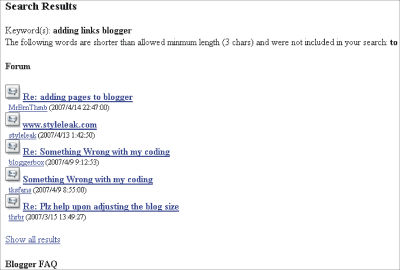 Now enter into Blogatech's search engine below the phrase "blogger forum adding links to blogger"
You will get much better results than you get at their own site. Also use this search for any other information you want about Blogger and I think you will be impressed with the results. Take a minute and bookmark this post and comeback any time your looking for anything associated with Blogger. I think you will find this search engine just gets better and better.
Technorati Tags: custom search engine, blogger, increasing adsense revenues